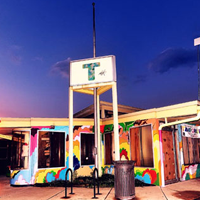 Murals DC
will be having its inaugural gallery show at 1300 H St NE (
former R.L. Christian Library) from 6-9pm Tuesday, September 6th.
There will be
music, live art creation, BBQ, and a meet and greets with the Lead Artists, their Student Apprentices and film makers from The Red Line D.C. Project. If you have the time please RSVP on Murals DC Facebook Page
. This will happen every night till September 13th.